Education
I graduated with honors from the Boulder College of Massage Therapy and received their Associate of Occupational Studies Degree in 2001 with more than 1300 training hours in:
Integrative Therapeutic Massage
Deep Tissue
TMJ Treatment
Zen Shiatsu
Polarity Therapy
Craniosacral Therapy
Trauma and the Body
I completed Advanced Polarity Therapy training at the Colorado School of Energy Studies in 2017. Starting in 2005, I fulfilled more than 800 training hours including:
Nervous System Regulation
Trauma Resolution
Life Coaching
Bodywork
Exercises
I am certified by the National Certification Board for Therapeutic Massage and Bodywork and a professional member of the Associated Bodywork and Massage Professionals.
Beyond Massage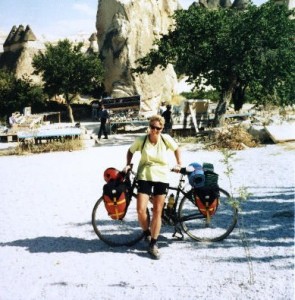 I have enjoyed living car-free in Boulder since 1987. I love being outdoors. I bicycle, hike, skate, swim and do yoga. I sing and write songs and have been known to perform. I love to dance to 80s music.
I enjoy visiting Mexico and learning Spanish. I have traveled and bicycle-toured on five continents.
I graduated from the University of Colorado at Boulder with a degree in mathematics and sociology. Before my career in massage therapy, I worked at The Rape Crisis Team (now Moving to End Sexual Assault), the Center for People With Disabilities and volunteered at the Colorado Therapeutic Riding Center. These jobs taught me that I really enjoy working with people, especially in a one-on-one situation where I can build relationships with my clients. Bodywork is a perfect fit for me. My work energizes and inspires me.